My most recent episode was all about historical romance and though the latest book didn't set my world on fire, I promised a list of the books that I enjoyed so that you can possibly find something that you will love experiencing.
So, I'm opening up my bookcases and pulling out a few of my all-time favourite novels to share with you.
There are so many things I want to say about this book, but the most important is the intrepid couple central to the story, Brodick and Gillian. This is the sequel to one of Garwood's earlier novels, The Secret, but in my humble opinion, it is better than that.
Gillian is the daughter of a baron who was once favoured by the English king, John, but then disaster and she is treated like a prisoner in the house that was once hers by a man who usurped her father's position and ensured he was seen as a traitor.
All of this and the kidnapping of a young boy called Alec, see Gillian heading to Scotland to solve a mystery and find her own freedom.
Based during the early part of the 13th century, in both England and the Scottish Highlands.
A Kingdom of Dreams by Judith McNaught
I used to love this book and I have to be honest, it's still one that I consider to be incredibly well-written. However, when it comes to Highland Historical Romances (henceforth to be referred to as HHR) it's not as good as the ones by Garwood.
Jennifer Merrick is considered a traitor to her family, they are angry at her for something she didn't do, blaming her for the drowning of a childhood friend. However, when she and her quiet sister are kidnapped from the grounds of a convent by the English King's warrior Royce Westmoreland, it's seen as an opportunity for vengeance to be had. Unfortunately, her angry family underestimates how love can change a person's desire to get revenge.
Based during the very late 15th century, it is the first in McNaught's Westmoreland series, which continues with her bestseller (and probably her best known book) Whitney, My Love.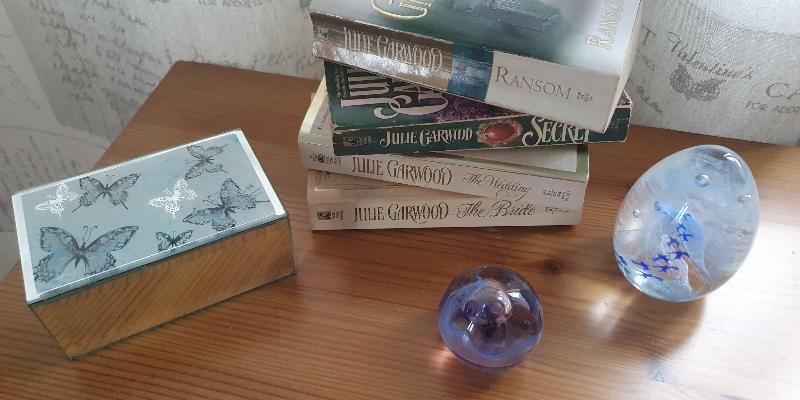 The Montgomery/Taggart Saga by Jude Deveraux
This series is a very mixed bag, going back through the dim distant memory of my time reading it, I know that while some of the books in the series are not at the top of my re-read list, others were superb.
That having been said, Deveraux never disappoints in her writing, she creates characters that you care about and the Montgomery and Taggart families are comprised of many interesting members.
There is even a book in it – A Knight in Shining Armour – that has a time travel aspect to it (and for me, this is where things went wrong, as time travel is not my favourite trope – and the main reason why I have always struggled with the Outlander series).
The saga itself is made up of many smaller parts, including The Velvet Series, The Twins, Nantucket Brides and more. And tells the story of these two families from mediaeval England to modern-day USA.
Any novel by Amanda Quick (a.k.a Jayne Ann Krentz)
If you're looking for something a little bit more on the steamy side, then this is the direction I would recommend you take. 
Quick creates independent, strong-minded and vibrant heroines who are the perfect foil for her often brooding, dark and mysterious heroes.
With twists and turns and mysteries to solve, travel through the regency period with multiple novels from Amanda Quick such as:
Ravished

Mistress

Scandal

Dangerous

Deception

Rendezvous

Reckless
Most of these novels are based during the regency and Victorian era.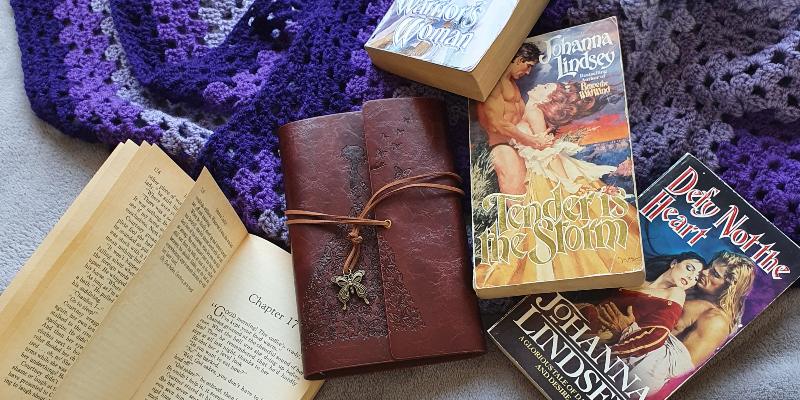 Gentle Rogue by Johanna Lindsey
This may be the third in probably Lindsey's most well-known historical romance series, but for me, Gentle Rogue is one of the best.
This is the story of rebellious Georgina Anderson. Desperate to get to England to find out what happened to her missing beau she is horrified to discover that after he was captured during the war, he settled down, married and had a child. 
Deflated, Georgina now has to find a way back to the US before her hot-headed brothers discover she is missing…and the only way to do it is to play dress-up as a cabin boy for titled and abhorrent James Malory – who, it turns out, is not all that he appears.
Cue plenty of common tropes, including sharing a room, only one bed and pretending to be completely disinterested.
Another historical romance based during the regency period – one that Lindsey seems to enjoy, but she has ventured outside it with novels based during the dark ages, in the Scottish Highlands, the wild west and even a trilogy in the future!
Wicked and the Wallflower by  Sarah MacLean
Though I was not the hugest fan of the latest by Sarah MacLean, the first novel I read by her was enough to encourage me to buy more. That first one was Wicked and the Wallflower, the first in her Bareknuckle Bastards Series. 
For me, the unique thing about this book and the two that follow it is that though the women are central to the plot and the story starts with them, it is the men and their story that stays consistent.
Devil and Felicity are fascinating and though he is the stranger in her bedchamber – which in itself is a big no no during this period of history, obviously – this is an intriguing start to their unconventional association.
Like Bombshell, this story is based during the Victorian era.
Once and Always by Judith McNaught
Yes, I know that this is the second book by McNaught on here, and to be honest, she doesn't have that many historical romances in her back catalogue, so I could list all of them, but I won't. This is the first one that I picked up and enjoyed by this author and though I purchased it from a tiny secondhand bookstore callee Badgers Books (it's still open) that has really narrow aisles and shelves from floor to ceiling, I still have my original copy – it's falling apart, but I love the cover!
Anyway, this is the story of an arranged marriage, which both Victoria and Jason are against. Many secrets are revealed, painful history wounds are reopened and I get the ending I want.
This is another regency novel.
If this is the genre you love then you will no doubt have hundreds of recommendations already on your reading list or stored in your Kindle, but if you haven't read any of these as yet, you won't go too far wrong taking a look at most of the novels by these authors.
Listen to Not Before Coffee!
In the meantime, what about listening to my review of Sarah MacLean's latest offering, Bombshell.